The Georgia Documentary Film Festival Fall 2019 Was Great!
The 3rd Georgia Documentary Film Festival Fall 2019 event will took place November 11, 2019 in Atlanta. 75+ Short Documentary Films from 30+ US States and 20+ countries will screened on a full day at the Wild Heaven West End Brewery and Gardens. International and Georgia based filmmakers an opportunity to screen the newest Independent Short Films on the Film Festival Circuit for the Atlanta Audience. Most of these films, have never previously screened in the state of Georgia. Please join us for this Short Documentary Film experience. Connect with us on Facebook, Instagram or Twitter and please use #GeorgiaDocumentaryFilmFestival in your social media posts related to this event.
Georgia Documentary Film Festival Fall 2019 Official Selections:
Session One: 11:00am
Clay County
D.O.G. Days of Summer
DAMITA.
Forever a Champion
Badlaav Republic
Awards Presentation: 12:30 pm
Session Two: 1:30pm
Kwizera
LATINO$ + FILM + USA
Making Cape Point
Smoke and Baloney
Session Three: 3:00pm
Waters of the U.S.
Work Sticks: Art, Impermanence, and Childhood in an East Tennessee Town
Into the Black
Nonna
Session Four: 4:30pm
Reap What You Sew
Show to Show
Something About Little River
Ready to Work
Session Five: 5:30pm
Remembering Cuba
The Butterfly Effect
A New Deal for Public Art in the Free State
How to Bend Concrete in 108 Easy Steps
Elsewhereness
Blind Adventure Camp
Censoring Nuremberg
DayJob: Andrea Jones-Rooy
Farm Truck 912
Forever Elvis
Global Food Crisis & Our Conviction
Hayat
Ilha da Rainha
Instead of Leaving
Kalangala Dreams
Let the Blonde Sing
Reap What You Sew
Shebbie's Live Life Series
Witch Hunt
Conviction
Wrong Path
Yonatan's Platoon
You Will Survive Doomsday
Catatumbo Stories
Elsewhereness
Boca Del Lobo
Natura Obscura
Post-Election Works
6th and San Pedro
A Story About Lights
Heroes of the Wild Frontiers: The Battle of the Horn
Heroes of the Wild Frontiers: The Fragile Islands
Heroes of the Wild Frontiers: The Return of the Shān
RSVP
The Silver Boys
The Tides That Bind
We All Believe in You
Operation International
R1514, the waiting
The Creative Process
Thursday Fields
As Easy As
Bet on Yourself
Canvas
The Tree Farmer
Touch and Go Chess Party
Diversity in the Long Gray Line
Aaron Durogati - Playing With The Invisible
How We See Water
Kumudini: A Water Lily Chronicle
Maria Torres: Neighborhood Artist
Masters of Camouflage
Squeegee
The Cat Man
5 Reasons Why We Need Hate Speech
Jimbo
Overseas
The Sisters
David's Ark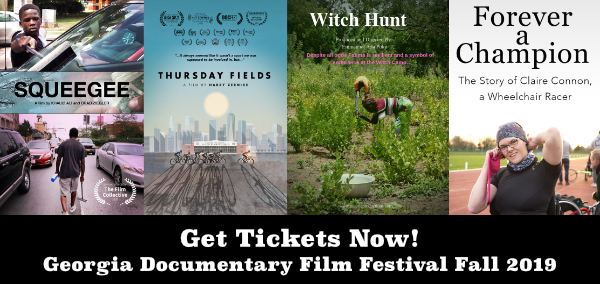 Award Nominations
1) Best Cinematography Award Nominations
Work Sticks: Art, Impermanence, and Childhood in an East Tennessee Town, Directed by Shara K. Lange (Tennessee)

Sink or Skim, Directed by Will Hewitt and Austen McCowan (Scotland)

Remembering Cuba, Directed by Sophia Costanzo (California/Indiana/Texas/Massachusetts/Arkansas/Florida)

Instead of Leaving, Directed by Facundo Castro (Colombia)

Kwizera, Directed by Alexis Lopez (Ohio/Rwanda)- AWARD WINNER!
2) Best Director Award Nominations
Ready to Work, Directed by Seth Farmer, Reagan Wells (Alabama)

Making Cape Point, Directed by (Maine)-AWARD WINNER!

Show to Show, Directed by Samuel Scott (Ohio)

The Tides That Bind, Directed by (Pennsylvania)

Badlaav Republic, Directed by Manahar Kumar (India)
3) Best Documentary Film Award (6-30 minutes) Nominations
RSVP, Directed by Samantha Mitchell (Maryland)

Badlaav Republic, Directed by Manahar Kumar (India)-AWARD WINNER!

Squeegee, Directed by Khalid Ali (Maryland)

The Butterfly Effect, Directed by Kate Boylan-Ascione (Florida)

A New Deal for Public Art in the Free State, Directed by Graham Carroll and Kara Heitz (Kansas)
4) Best Documentary Micro Short Film Award (1-6 minutes) Nominations
The Tree Farmer, Directed by Jeremy Roberts (Georgia)-AWARD WINNER!

Ilha da Rainha, Directed by Kayla Fragman (Canada)

Touch and Go Chess Party, Directed by Paul Restivo (Illinois)

The Creative Process, Directed by Spencer Fochtman (Oregon)

6th and San Pedro, Directed by Scott Pommier (California)
5) Best Georgia Documentary Film Award Nominations
Boca Del Lobo, Directed by Jesse Moss (Georgia)

Clay County, Directed by Marcy McCall (Georgia)-AWARD WINNER!

D.O.G. Days of Summer, Directed by Dan Gamber (Georgia)

DAMITA., Directed by W. Feagins, Jr. (Georgia)

Farm Truck 912, Directed by Kylie Procita (Georgia)
6) Best International Director Award Nominations
How We See Water, Directed by Robin Starbuck (Mexico)

Masters of Camouflage, Directed by Betsy Beasley (Philippines/Indonesia/Bahamas)

R1514, the waiting, Directed by Salvador Alemany (Spain/Western Sahara)

Forever a Champion, Directed by Carmen Vincent (United Kingdom)-AWARD WINNER!

The Silver Boys, Directed by Jared Salazar (Guatemala)
7) Best International Documentary Film Award Nominations
Nonna, Directed by Sara Izzi (Italy)-AWARD WINNER!

Aaron Durogati - Playing With The Invisible, Directed by Matteo Vettorel and Damiano Levati (Italy)

Bet on Yourself, Directed by Harvey Eaton (England)

Overseas, Directed by Irene Felici (Bangladesh)

Kumudini: A Water Lily Chronicle, Directed by Jaya Jose Raj C L (India)
8) Best Nature and Outdoor Documentary Film Award Nominations
Heroes of the Wild Frontiers: The Fragile Islands, Directed by Krishnendu Bose (India)

Waters of the U.S., Directed by Remi Escudié (Alabama)

Something About Little River, Directed by Jeb Brackner (Alabama)- AWARD WINNER!

Natura Obscura, Directed by Kelsey Quakenbush (Colorado)

Into the Black, Directed by Kenzie Greer (Alabama)
9) Best Political Documentary Film Award Nominations
5 Reasons Why We Need Hate Speech, Directed by Molly Dedham (New York)

Global Food Crisis & Our Conviction, Directed by Justin Chung and Ji Won Kim (New York/South Korea)

LATINO$ + FILM + USA, Directed by Mariana Gomez (Georgia)- AWARD WINNER!

Diversity in the Long Gray Line, Directed by Les Owen (Maryland)

Post-Election Works, Directed by (California)
10) Most Inspirational Film Award Nominations
A Change of Practice: Leadership in Medicine for the Underserved, Directed by Jennifer Berggren (Michigan)

Reap What You Sew, Directed by Tyler Adams (Malawi)- AWARD WINNER!

Kalangala Dreams, Directed by Daniel Hedström, Apollonia Meleouni, Sofie Andersson and Astrid Andersson Ahlbom (Sweden/Uganda)

Operation International, Directed by Jeff Colhoun (Ivory Coast)

Let the Blonde Sing, Directed by Rachel Knoll (Alaska/Minnesota)
Watch The Film Trailers Here